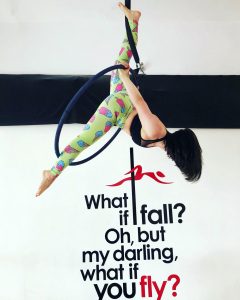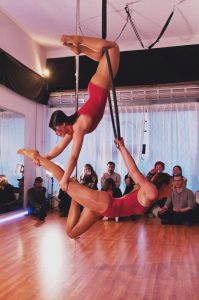 Hi my name is Muyun and I'm from Beijing, China. It's not too much to say that aerial dance changed my life. I was absolutely not a sports person, I used to avoid sports whenever I can, because I was not fit and not strong at all.
Since I started working, I passed by a pole studio everyday, and one day I decided to give it a try because the girls seemed having fun there. I was amazed by the beautiful moves and dreamed of one day I can do those moves as well, and it WAS fun, and I got hooked! Afterwards I tried aerial hoop, I love it even more! Now fast forward 4 years I can do the moves I once dreamed of, and I keep having new dream moves. I also competed in the Aerial Arts competition 2019 and won the first place in the duo aerial hoop category!
It's fascinating how fast your body learns, all you need to do is keep trying. I see how my body is transformed to stronger and more flexible, and more importantly it made me happier, more confident and love sports. I'm so happy to join the PIDS team after training here for almost 3 years. The studio offers not only diversified classes, but also companionship. I made a lot of friends with the same passion, and we advanced together, it's the best thing… Come and fly with us!